The "Insert Storyboard" functionality allows you to insert a complete storyboard – with all its assets and settings – into another storyboard, thereby allowing for unprecedented flexibility when creating and working with video.
Note: You can also start your whole storyboard with an insert, by inputting the id or a comma-separated string of ids in the corresponding field when creating a storyboard.
With this functionality, you can create libraries of often used parts of videos and quickly put them together in a composite way.
To insert a storyboard, you must have access to do so – so every storyboard has a setting for that access — more on this below.
How to use "Insert Storyboard"
In this version of "Insert Storyboard," you insert a storyboard by having access to that Storyboard's URL or id (part of the URL). The Storyboard that you want to insert also needs to have proper "Insert Access" (more on that below) for you to be allowed to insert it.
You can access the "Insert Storyboard" functionality in two ways, as pictured below.
From the "..."-icon on the "Add Slide" square. This allows you to attach a storyboard at the end of the one you're working on or inserting a storyboard into an empty one.
Form the "Insert Storyboard" button between slides. When you have more than one slide on the storyboard, you have an "Insert Storyboard" button between slides as well, which mean you can insert a storyboard wherever.
When inserting a storyboard, it will be included in full at the insert point. If that insert point is within a group, it will split the group at that point.
The storyboard you insert will be inserted with all assets and information intact, preserving its integrity. When a storyboard is inserted, the newly inserted slides become part of the new storyboard, and you can work with them; however, you want.
Obvious workflow tip: If you want to insert a storyboard at the beginning of another, there is no direct way to do that – but a super-easy workaround. Just add a single slide somewhere on your storyboard and drag that to the start. Then insert the new storyboard right after that and remove that first slide. There you go.
Insert multiple and create new storyboard from ids
You can insert multiple storyboards at once by using a comma-separated list of ids, either within the storyboard or on creating a new storyboard. In the latter case you input one or more ids – if you do more than one they should be comma-separated with no extra spaces – in the "Add from IDs" field in the Add Storyboard dialog. Paste your storyboards into the field and press "Save". It will usually take a few seconds to create that new composite storyboard.
Insert Access – controlling availability for your storyboard
Every storyboard has a setting called "Insert Access" that controls if this storyboard can be inserted into another or not. This makes it possible to protect your storyboards both in full or to leave access within your account.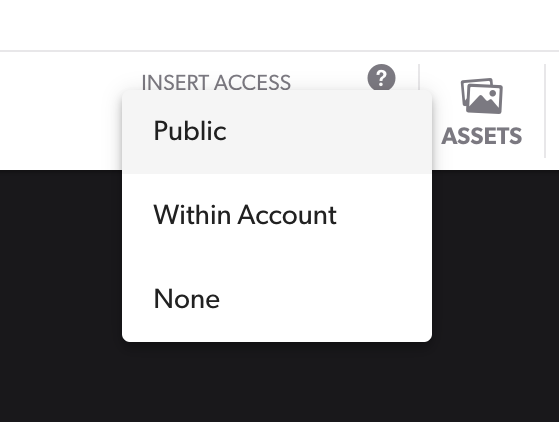 None (Default):

When Insert Access is set to "None," the storyboard can not be inserted into another storyboard. This is the default setting due to security reasons – if you do not actively change this setting no one can insert your storyboard.

Within account:

When the Insert Access is set to "Within account," the storyboard can only be inserted in other storyboards under the same agency account. This is good for sharing things within the organization but not giving access to others.

Public:

When the Insert Access is set to "Public" anyone that has the id or URL can insert it into their storyboards. The URL that is used for insertion is not readable for non-users of Storykit. Only use this if you want your storyboard to be openly insertable.
Ideas for using "Insert Storyboard"
Re-use of standard pieces: Create a "Good Stuff" job.
It can be very efficient to have a Job where you gather all of your standard storytelling pieces, such as outros, specific narrative elements, or payoffs and taglines. And if you create these from within the same job – that's a super-easy way also to have all of your assets in the same place.
The People Gallery
One handy thing – if you are in marketing and want to create very bespoke and individual videos quickly – is to have all your spokespeople and representatives in ready-made storyboards. So you quickly can make a video that has the contact info for "CEO Susan" or "Ahmed in Sales." For real estate agents or car dealers, this easy to use personal touch can make a huge difference.
Complete Templates
You could work with templates on the "job level" – but you could also have complete storyboards to insert, doing much of the same job and in some instances even simpler depending on how you use Storykit. This could be your weekly "News Update" or daily or hourly "Bulletin Story" or whatever format you want to re-use.
Multiple people working on the same story
Another suggestion is that with this functionality, you can work with a story in multiple different storyboards – and in different jobs – and then bring them together in the end. This could both be beneficial when working with stories that need to be put together very quickly – but also if there are people with different skillsets that all need to contribute.
Giving access to public information
If you have information that others need or want to use – you could make that available as insertable storyboards. This could include everything from press releases that you make available for the media, and they can use in whole or parts (this is efficient since all assets are copied over with the storyboard) to "fact box information" that people can insert in their storytelling; be it facts about health or other.
Product database
One of the more obvious use cases for this is to build up a product database in storyboard format. You can have finished storyboards for your entire inventory – ready to use in stories that list multiple products, sales campaigns, and all sorts of storytelling. Since they are not finished videos – you can always change prize, availability or other both in the insertable storyboards and in your target storyboard. So you can always check the validity of the information.
Workflow Tip: Insert in itself
If you are working on a storyboard where you know that you are going to use the same segment over again – a typical case would be a listicle – you could make the first listicle slides and then insert the storyboard in itself. This will give you your next listicle segment. Do it again, and you have four segments. And, well, you get the point.